It's no secret I love talking about planners. And I will talk about them in any capacity–from planners to motivate you to be organized [1|2|3], printable worksheets for your planner that will keep every facet of your daily life in check, resources and inspiration if you're more the Bullet Journal type, and how to budget your finances in your planner. What I haven't spent a lot of time discussing is how students can better utilize their planners and bullet journals to reduce their stress and succeed academically.
WHICH PLANNER IS RIGHT FOR YOU?
Before your planning process can begin, you need all the right materials! First of all, you're going to need a durable planner that fits your personal needs. If you need structure and a consistent layout–then a traditional planner is for you. Try the one pictured above, which includes monthly and weekly spreads ($16.95, pier1.com). This incredibly detailed planner from Paper Source has in-depth daily, monthly, and weekly breakdowns. If you're someone who really needs their space for assignments, extra-curricular activities, social gatherings, tests, and study sessions, then you'll love this Page-A-Day Planner from Paper Source. It truly allows each day to have their own page, so you can stuff it full of notes, reminders, and fun doodles.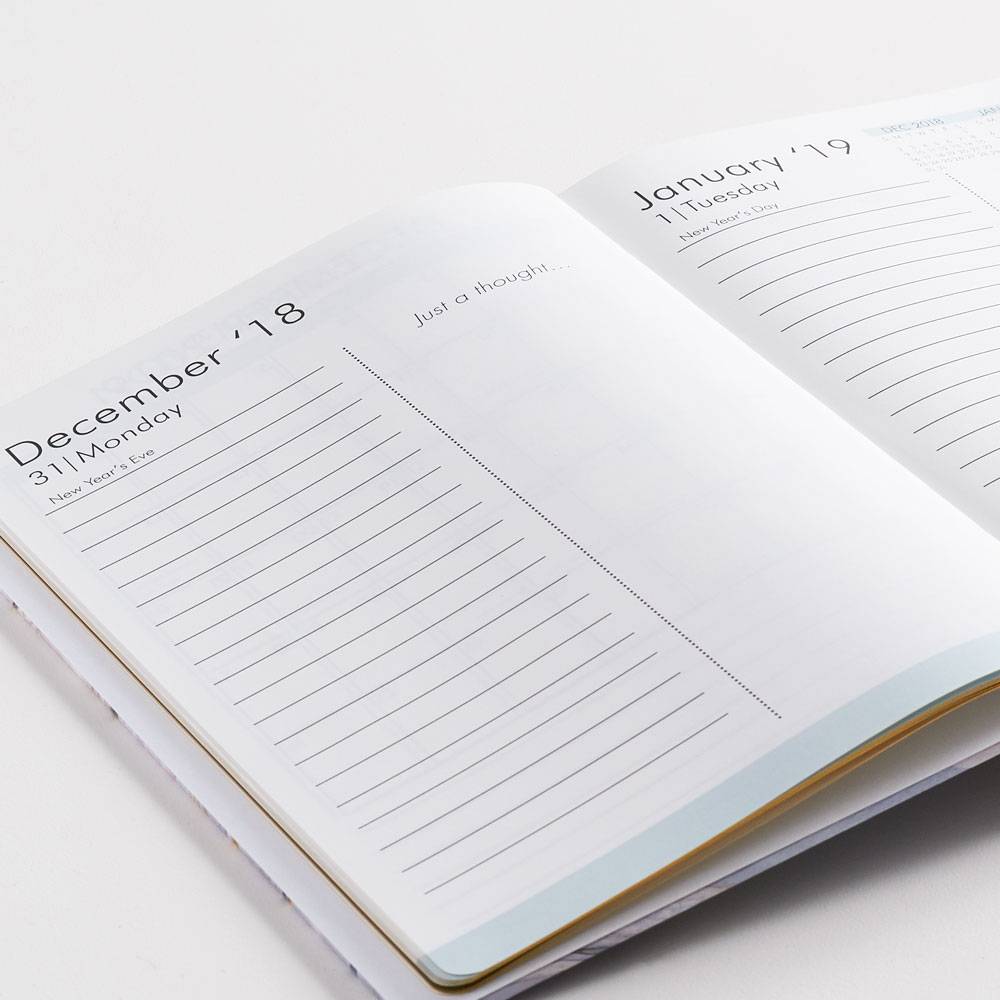 If you're a creative soul and doodling, painting, and decorating is what keeps you motivated to use your planner daily, then opt for a bullet journal. Don't know what that is? This website is dedicated to providing knowledge and clarification to those ready to foray into bullet journaling. Fan favorite Leuchtturm1917 is a dotted journal with numbered pages ($24.95, leuchtturm1917.us). Walmart and Michael's both have similar versions for less than $10, so don't think you're required to spend a fortune to have a great start.
Depending on what materials you want to use for decoration, keep in mind paper weight and thickness. If you'll be using watercolors or paint pens, you'll need sturdier pages to prevent ink bleed. If a simple pen and washi tape is your go-to method, then thinner pages should work fine for you (and make your planner less bulky and more portable).
SUPPLIES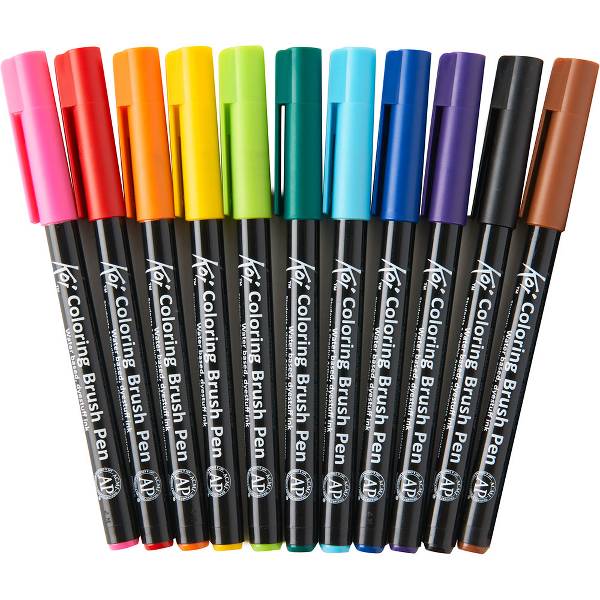 Depending on your creative styles, you may or may not need everything on this list. Here are a list of some of the basics (and some of my favorites!):
Washi Tape. I own way more Washi Tape than is socially acceptable to admit. Washi Tape is great because it's decorative, a great way to separate sections in your planner, and it's also removable–which means it will come in handy if you're decorating with paint or markers. I'd start by checking out Michael's, as their selection is huge.
Watercolors + Brushes. For true artists–or those who want to learn–watercolors can be a great way to take your planner to the next level. If this is your first time experimenting with watercolors, try this basic set from Koi Water Colors ($24.99, michaels.com) and a simple Soft-Grip Brush ($2.99, michaels.com). Or you can opt for these unique and easy-to-use Water Brush Assorted Tips ($29.95, papersource.com).
Stickers. I am a huge fan of using stickers in my planner. It adds dimension and pizzazz to the pages with absolutely no effort on my part. Try these Me & My Big Ideas Productivity Stickers ($11.99, target.com) or these pretty Water Color ones ($11.99, target.com).
Glue. I recommend glue for a few reasons: 1) because sometimes cheap Washi Tape is not sticky enough to adhere to the page, 2) I like to add paper cutouts or printables, and 3) I like to include certain memorabilia (movie tickets, theme park receipts, photo booth pictures, etc). I treat my planner like a mini-scrapbook of sorts. You can never go wrong with basic Elmer's Washable School Gluestick ($3.82, walmart.com), but for a sturdier adhesive I prefer their Craft Bond ($4.79, walmart.com).
Highlighters. You want to acknowledge when you've completed something off your to-do list, right? There is no easier way to do this than with some pretty highlighters. I am a huge fan of these Zebra Mildliner Dual-Tip Creative Marker ($16.99, target.com).
Ruler. This is a must for any bullet journaler. A basic metal ruler will do the trick ($2.59, target.com), but transparent rulers are great for detailed work when you need to see every inch of your page at all times ($0.97, walmart.com).
Other must-have items may include craft paper, paper cutter, ink and stamps, calligraphy pens, gel pens, etc, depending on your passion for creativity and your decorating plans.
HOW TO SET UP YOUR NEW PLANNER
For me, when getting a new planner, the most intimidating step is making sure I set everything up correctly the first time. A faulty structure or bad organizing system can truly ruin your organizational efforts. If you're a student with absolutely no idea where to get started, check out this post. It talks about the big-picture overview essentials for your planner, so that you can be set up for success the rest of the school year. Here is more inspiration on what you should include in a new year's calendar.
If you struggle to remember due dates, include every assignment and test from every class you are taking. If you have a hard time balancing school, work, and a social life, schedule time for yourself in your planner and make a commitment to follow that timeline. If you can't finish your essays on time, make a road map to success, including small goals each day/week to ensure you complete assignments on time.
When setting up a bullet journal, things can be a bit more challenging. However, this post has a great breakdown of how to get everything drawn in and ready to go! You have more flexibility in the set-up when you are designing your planner from scratch. Everything you want to track, monitor, complete–include a page or section for it.
WHAT YOU SHOULD INCLUDE
As discussed above, what you should include is entirely dependent upon your needs, your day-to-day life, and what is important to you. I love this list from Pinterest, which includes awesome suggestions such as:
Debt Tracker
Bill Payments
Wish List
Weekly Routine
Vacation Ideas
Website Log-Ins
Birthdays
Brainstroming
Personal Goals
Project List
Sure, not all of those pages are relevant to being a student, but they are relevant to life. And if your planner isn't functional in your everyday life as well as for school, then there's really no sense in starting a planner! You want it to be your one stop shop for every date, reference, or piece of information you could ever need. This post talks about a monthly bucket list, deadlines, and 5-Year Plan as some of the essential pages to add.
Here is even more inspiration on which pages to include in your planner:
HOW TO MAKE IT PERSONAL
A planner or a bullet journal is truly unique to each individual. Find ways to include details specific to you. The color code above demonstrates how one individual organized her planner with categories crucial to her life (I actually use these same pens at work for my calendar and having one color for each category is truly a game-changer).
When I have upcoming bills or paperwork, I paperclip these items on the pages so I can never forget about them. Glue in those little appointment reminders you get from the dentist. If your syllabus includes details on an upcoming project, cut them out and attach them to the assignment due date. This way, you can always cross-reference to see if you're completing an assignment correctly. There are so many unique ways to decorate and expand upon the basic idea of a planner to make it truly unique and functional for you.
MAKE IT FUN!
Sure, this is a post about having a planner for school–but that doesn't mean your planner needs to be dull and drab! Decorate with washi tape. Like I discussed before, glue in items that are special to you–photos, ticket stubs, itineraries from your upcoming vacations, etc.
School is absolutely important, but so is your sanity. Use stickers to call out when there are special events (wedding, sorority functions, birthday parties, date nights, etc). Washi tape can be used as page decoration, to divide sections, or to draw attention to important information. Instead of tracking boring things like budgets and bill payments, make pages that include your dream vacations, shows you want to watch on Netflix, or books you want to read.
Remember: your planner shouldn't be a chore. It isn't an effective tool unless you enjoy spending time updating pages, checking things off your to-do list, and keeping each section beautiful and decorated. If spending three hours on decorating but two minutes on actually filling in information is the set-up that works for you, go for it! On the other hand, if you hate spending time on the stickers and washi tape and markers and would rather focus on the nitty gritty–do it! There are no rules to keeping your planner up-to-date, just make sure you do what works for you in order to focus your attention on success.
HOW TO STAY MOTIVATED AND CONSISTENT
You've set up your planner, created your layout, mapped out your pages–now what? If you don't keep up with your planner, what was the point of even doing one? You may not have time to update your planner each day, but you should try to set aside some time at least once a week to make sure your tasks are being completed in a timely manner, your bullet journal information is up-to-date, and you don't miss any huge impending deadlines. For me, the weekly time I set aside to update my planner is some of the most relaxing time in my week. I truly enjoy decorating each page and filling in information as I go.
It will be so incredibly easy to keep up with your planner on a day-to-day basis if you label your pens, like shown in the photo below. This helps you keep track of your coloring system and makes grabbing the right tool for the job super simple. If it takes just a second for you to use the right pen and jot down a note, you'll be more likely to do it. If you can glance at your journal and take inventory of your week for just a minute or two each day, it will become a regular habit instead of a monthly chore.
Including important information in your planner–assignment due dates, website log-in information, addresses, upcoming bils, etc–will force you to use your planner as a daily reference. Important dates and deadlines won't slip through the cracks if you are reminded of them every day.
PRINTABLES
Don't want to hand draw every single page in your new planner? Use some of these printables instead!
ADDITIONAL RESOURCES & INFORMATION
If you still feel like you need more information or could benefit from additional planner resources, look no further than the links below!