I can't get enough of fashion DIYs (I mean, I did a whole master post on DIY-ing denim shorts). Here is a list of fashion DIYs perfect for warmer weather, Spring vibes, Coachella, and everything involving sunshine. Start by adding lace to your sweaters to transition your wardrobe from Winter to Spring, as shown above.
Turn an old bra into a festival piece–or a sexy centerpiece for a night out. This is one of the prettiest DIYs I've come across recently. Check out the tutorial here.
Any old pair of shoes can be transformed with only a few supplies. I am in love with the fluffy heels trend, but I'm not sure if I'm ready to invest in a new pair from the store. Why not create your own? Here's how to do it.
You probably have a million chokers in your collection already–but why not add one more? Here's a simple tutorial for a leather choker. No sewing involved!
This strapped bra top is equal parts sexy and cool. Get the tutorial here so you're ready for your next date night.
Lace-up flats are all the rage right now. Turn a tired pair of flats into a trendy new item for Spring. You'll be wearing these DIY shoes all season long. This particular tutorial also transforms the flats from beige to leopard for an additional pop of style.
Need a statement piece for Spring? Nothing is more perfect for warm weather than a bright and bold necklace. This one recycles old floral brooches into something modern and new. Learn how to make the necklace here.
Embroidery and applique is huge this season. Make a custom denim jacket for the fashionista in you. This tutorial is simple and can be modified in any way you like.
Again, with the tired flats–use sequins to transform them. You wear your flats every day. Treat them well with some sparkle and shine. The tutorial has since been removed from the web, but it would be easy to figure out on your own. Check out the original source for more sequin tutorials.
T-shirt DIYs are simple and perfect for beginners. This particular t-shirt project involves no sewing whatsoever! Get your scissors out and have a stylish new shirt. Even if it's just for running errands, you'll take your everyday style to a whole new level. Again, this project no longer has a tutorial, but check out the picture for inspiration.
Tassels are a huge trend right now. Make these beautiful tassel necklaces, which you can wear this season and beyond. They are very Anthropologie–without the hefty price tag to match.
Off-the-Shoulder tops were made for Spring. Try this tutorial to up your fashion game this season.
It may be a little early to hit the beach, but this Pom-Pom Beach Cover-Up certainly has us yearning for the warmer days of summer! Get the full tutorial for this cute cover-up here.
Embroidered sneakers are adorable and perfect for Spring. If you're more handy with a sewing needle than the rest of us, check out this cute DIY.
Sunglasses are a staple in your wardrobe during all seasons. Why not transform your boring sunnies into the feature of your outfit? Try this embellished sunglasses tutorial.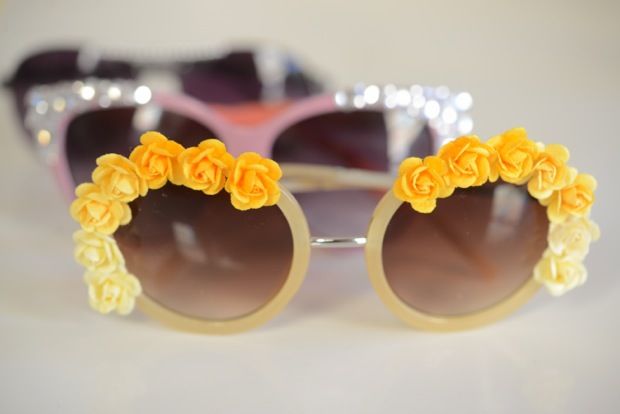 Graphic tees are here to stay. This version is perfect for those looking for a fun and funky t-shirt. You can stamp whatever you want on the shirt, making it uniquely yours. Read the tutorial here.
Update your jeans (or your shorts) with simply a stencil and some fabric paint. This tutorial takes the cake when it comes to easy, no-sew ways to update your denim.
Truly be the Dancing Queen with these disco pom-pom sandals. They are fun and flirty–perfect for a night out. You can find the tutorial here.
One of the simplest updates to a button-down shirt is cutting out the shoulders. This trend has been everywhere lately and now you can do it on your own–without the terrifying price tag of buying it brand new.
Bring out the scissors! Again, a simple cut can totally transform a piece of clothing you already own. I am loving this split-back top tutorial.
This crystal hair comb is beautiful and easy to make. It's the perfect accessory to every look this season. Learn how to make it here.
The simplest way to spice up any look is to throw on a pair of fringed heels. If you don't already own a pair, just follow this tutorial! It only takes a few materials to get a trendy pair of shoes that only look expensive.
Time to get crafting!