New year, new you, right? What better time to go through and organize your closet than right now? I've shown you capsule wardrobes and have talked about some of my favorites (Fall, Winter, and the Basics) before. Get the closet of your dreams with these cleaning and organization tips. You can discover your true style, save money, and truly love your closet!
1. Take out everything.
All of it. You can't go through everything you have if everything you have isn't in front of your face. The first step to an organized closet is having it all in front of you. And not just clothing. Hats, shoes, jewelry, wrapping paper, bedding, trash, board games, etc–all of this ends up shoved in the deep recesses of your closet, forgotten and causing a mess.
2. Decide which clothing is worth keeping–and what's not.
Try to eliminate the clothing you don't wear. It's crucial to be honest with yourself here. Your high school homecoming dress may have sentimental value, but do you really need to keep it? What are you going to do with it? I love this post about reasons why we hold on to clothing (and why we need to let it go!).  Be truthful about what you wear and what you don't. You can try the chart above or this one from Pinterest.
KEEP things you love and honestly will wear over and over.
REPAIR things that have broken pieces. Do not put these items in your closet until they are fixed. And that doesn't mean you ignore these projects for five years. Force yourself to finish mending these items in a set amount of time or else they need to be tossed.
DONATE as much as you can.
TOSS things that are destroyed beyond repair or extremely worn out. I would recommend that bras, panties, socks, hosiery, and swimwear get automatically tossed in this pile as well.
3. Try things on.
This is where I fall short when it comes to organizing my closet. I look at an item, decide I love it, and then it goes immediately back in the closet. It's a good idea to try everything on–even items you wear regularly. Inspect items and throw away or donate anything that is ripped, stained, torn, ill-fitting, or out of style. As mentioned before, it's okay to keep a pile of things that need to be repaired, but don't even think about putting them back in your closet until they have been fixed. This post offers six questions you should ask yourself before deciding to keep an item.
4. Clean your empty closet.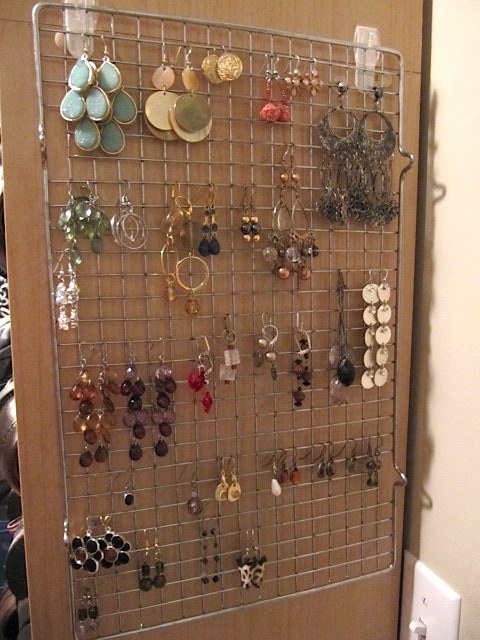 How often do you have nothing in your closet? Now is the time to dust, vacuum, install your new shelving units, hang up shoe organizers, attach hooks on the inside for scarves and jewelry. The jewelry organizer above is actually a cooling rack from the dollar store. This post tells you how to make rolling shelved storage for folded items.
5. Scale down what you have.
This is where the capsule wardrobe concept comes in. Un-Fancy does a wonderful job discussing her process of creating a capsule wardrobe, which you can read here. She provides the "rules" for her capsule wardrobe here and even offers amazing worksheets that can help even the biggest shopaholic pare down her collection. Here is another basic tutorial for capsule wardrobe beginners.
6. Make sure only items that belong in your closet end up in your closet.
Your high school homecoming dress we talked about earlier? Even if you can't let it go, is your closet really the best place to keep it? Why not store it in the attic or under your bed? It is hanging in your closet, unworn, and causing more mess. Even clothing like coats and jackets may not need to be kept in your closet all year round. Pack them away during the summer months or hang them in your hall closet to prevent your bedroom from getting too full.
7. Be sure everything has a specific home.
Invest in new tools to maintain your closet. Hangers, hooks, drawer dividers, and shoe organizers are all great ways to keep everything in a specific place. If you don't want to spend money on new closet organization, try to DIY some things yourself, such as this scarf hanger.
8. Find an organizational method that works for you.
Whether that means organizing items by color, sleeve length, or casual/formal, find a system that works for you and is easy to maintain. This infographic offers some clever ideas for storing just about everything.
9. Train yourself to put things away (in the right spot!) immediately.
This post talks about organizing your entire home, but a few specific notes are very important for maintaining a clean closet. First and foremost, make sure things get put back in their proper place! Don't shove things in the closet out of laziness.
10. Continue to keep track of clothing you wear and don't wear.
It has been continually said that you should hang unworn clothing backwards. Then, as you wear it, reverse the hangers to the correct position. This way you will have a real-time view of what items you are wearing and which ones are being ignored. If six months (or less!) have passed and you haven't worn an item, it's time to toss it.
11. Purge clothing as you bring in more to prevent clutter.
What goes in must come out. Give yourself a set number of items and try to eliminate something from your closet every time you buy something new. If you buy a white t-shirt, it's probably a great idea to get rid of one of your old, worn out white t-shirts. For a while, I tried to donate one bag of clothing per month. I didn't have a set item limit of what could fit in my closet and I didn't keep track of exactly how many pieces I would get rid of each time, but continually clearing things out certainly helped to keep my closet clean.
Now start digging through your closet and walk into 2017 organized, decluttered, and with a new wardrobe!