Store-bought Christmas cards are so 2015! Handmade cards are all the rage this season. You don't need to be an artist or have hours of free time to make these unique and adorable cards. Best of all, making big batches of cards instead of buying them is sure to save you some money!
1. Hand Drawn Pen Cards [x]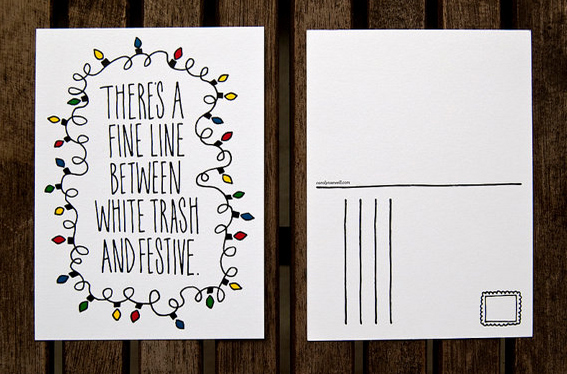 With just a pen and some markers, you can create pretty and unique designs. The best part is, you probably already have all of the required materials on hand! Staedtler Fineliner Pens are some of my favorite quick-drying, no-smear craft pens. Buy this pack of 36 off Amazon for $21.58.
2. Button Ornaments [x]
Mismatched Buttons + Glue + Pen = these adorable homemade cards. Pick up a value pack of blank cards at Michael's to get you started.
3. Paper Cutouts Cards [x]
Cutout pages from a thrift store book or even the comics section of the newspaper for fun and cute cards everyone will love. This idea is so flexible based on the person who will be receiving the card and what printed materials you have on hand! Here is a circle hole punch for $8.49.
4. Felt [x]
Felt is completely affordable at almost every craft store (plus they have it at Walmart and Target!) and you probably already have 10 leftover sheets on hand. Hot glue and blank cards are all you need to complete this project!
5. 3-D Stickers [x]
Buy a package of 3-D stickers at your local craft store and you're good to go! The 3-D element makes it seem as though there is a lot going on with the card, when in reality all you did was slap on some stickers and write a thoughtful message in pen. Try these felt stickers from Paper Source.
6. Cutout Paper [x]
Cutout craft paper in any color or pattern and you've got an easy to make Christmas card. This pack has a variety of different patterns.
7. Minimalism [x]
Sometimes the prettiest cards are the simplest to make. Here are some craft paper cards from Michael's.
8. Button Snowman [x]
Everyone has buttons laying around their house! And, if you have kids, they'll love helping you craft these cute snowman cards. Get everyone on board and you'll have plenty of cards to mail out in no time! Try a handwritten stamp like this one to make this craft even simpler.
9. Ripped Tree [x]
Rip strips of a thrift store book or a newspaper to create this fun and funky Christmas card. Keep everything firmly in place with some Mod Podge.
10. Craft Markers [x]
Literally all you need for these is white cardstock and craft pens or markers. Zero artistic talent necessary. Although they are not fine-tipped, you can try these glittery markers from Martha Stewart. Here is a fineliner set of craft pens.
11. Washi Tape Presents [x]
Four squares of Washi Tape, some festive twine, and a thick marker make up this cute present card. This set from Michael's has 45 different holiday-themed Washi Tapes for only $10!
12. Googly-Eyed Reindeer [x]
It truly doesn't get any easier than this! Smack on some googly eyes, turn one of them into Rudolph, and you've got a unique and adorable card. Pick up this pack for only $2.99!
13. Button Wreath [x]
I just can't stop talking about button cards. They're cute and fun and oh-so-easy. A pretty set of ribbon, like this one from Target, tops off your wreath in the cutest way.
14. Fingerprint Reindeer [x]
Pick out some watercolors and let your kids do the dirty work for you! This set has 36 pretty colors perfect for any occasion.
15. Simple Embroidery Tree [x]
If you know how to thread a needle, you can make this card! If you want to add beads to your string, it's a cute detail, but it's not necessary. A simple star sticker on top completes the project. Try a thick cotton thread like this one from JoAnn Fabrics.
16. Glitter Glue [x]
If you've ever had a class project, you probably have five bottles of this stuff rotting away in a drawer somewhere. Why not put it to good use and make a Christmas card with it? You don't have to do more than a squiggle or two to create a fun card. Try this glitter glue for only $2.99.
17. Perler Beads [x]
Your favorite childhood craft item can now be a posh Christmas card for your adult friends! Pick up a jumbo jar from Michael's and you'll have plenty of beads leftover for your own crafting after Christmas.