Wow the crowd on a night out in this simple and sophisticated look.
THE PANTS
Grab a pair of leather look leggings to start off this look. The pair above is from Forever 21. They have two pairs of leggings that have a leather look as well [1|2]. Here are two more pairs from Topshop [1|2].
THE TOP
Honestly, Forever 21 has so many white crop tops to choose from, it was impossible to only pick this one! Here are four more choices [1|2|3|4]. If you're not into the crop top look, H&M offers tons of basics, including this short-sleeve white top and this long-sleeved one.
THE BLAZER
I am absolutely in love with Kendall's blazer. My favorite option is this $121 blazer from ASOS. Topshop also has a Velvet Blazer and a Tailored Suit Jacket that work as options as well. For a more affordable blazer, try this one from Target.
THE SHOES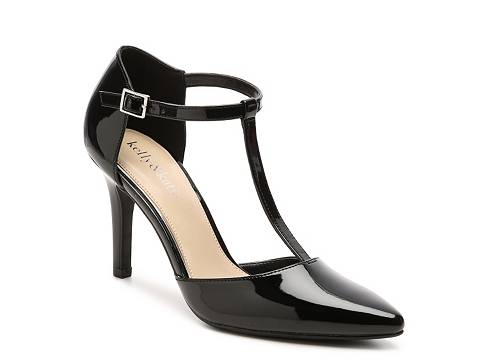 Kendall's T-Bar shoes are so classically simple that you can wear them with any look in your closet. My favorite dupe for Kendall's is this Katie & Kelly pump from DSW. At only $39.95, it's an easy choice that's also easy on your wallet. Here is a pair by Chinese Laundry, an adorable double-strap pair, and one with a lower heel for those of you who don't want to wear anything too high. Here is an additional pair from ASOS.
THE BRACELET
I am in love with this Nordstrom wide bangle–plus, it's only $35.00! They carry a thin bangle for $29.00 that's another great option. Here are two more choices from Nordstrom–one is only $24.00 and the other is by Kate Spade. My favorite smooth metal bangle from Charming Charlie is also a great choice.
THE PURSE
You can't really see her bag, but we can tell its a structured satchel. I love this Faux Leather Crossbody from Forever 21. Here's another satchel from Forever 21 and one from Charming Charlie.