This outfit is so simple–but I am seriously in love with this look. Even though summer is over and fall is upon us, recreate this look for a girl's night out and wow the crowd! Over at Steal Her Style, all of Kylie's pieces are listed (some in excess of $40,000!). We obviously need a more budget-friendly version of this look!
THE DRESS
The dress Kylie is wearing is actually only $38.50 from Pretty Little Thing. If you don't want to go for the bright orange color, it comes in 12 other colors!
When finding a similar dress, we want to pay close attention to the wrap/ruched detailing, as well as the asymmetrical hem. The one above, while olive green, is from Forever 21 for only $19.90.
Here's a longer dress for those of you looking to show less skin. This cold-shoulder version provides more warmth and here's another dress with long sleeves. While this dress is much more loose-fitting and doesn't have the same V-neckline, I think the style is similar.
THE HEELS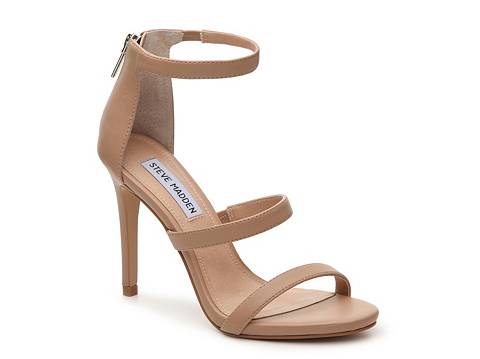 Whip out your nude strappy heels! I'm sure you already have these in your closet, but if not, it's not hard to find a replacemen. Kylie's also have an extra strap for added interest–which prevents her look from being stale. I love the Steve Madden heel above. It's $59.95 from DSW and is something that can be worn with multiple outfits in your closet.
For added detail, try these with embellishment, these metallic strappy ones, this pair with multiple straps, a metallic three-strap pair, another three-strap pair, a crisscross strap pair, and a leather pair from H&M.
If you want to stick with a more basic heel, you have three choices from ASOS [1|2|3], two from Nordstrom [1|2], one from H&M, and another from DSW.
THE CHOKER
Kylie's necklace is $99.00 from Lili Claspe.
Chain chokers are all over the place right now! This one from Topshop is only $20. Here are two options from Forever 21 [1|2], one from Nordstrom, and one from ASOS.
THE BRACELETS
If you want to drop $40,400 on a Cartier bracelet, you can here.  Here's another bracelet she's wearing that's a mere $11,800. However, that's not an option for most of us!
Why not try this multi-pack of bangles from Forever 21 that only costs $6.90? Here's a set for $5.90 and another for $6.90. Here are three more choices from Charming Charlie [1|2|3].