I was trying my hardest to not feature an Eleanor outfit for a while (since I post about her looks way too often!), but this look floored me. Perfect for fall–and supremely sexy–I wanted to recreate this look immediately, even if it was only for myself!
THE DRESS
The beauty of Eleanor's dress is that it is fairly casual. This means you can buy any t-shirt or swing mini dress and wear it for a multitude of occasions! The one shown above is $42 from Nordstrom. Depending on the sleeve length, neckline, color, and dress length, there are a slew of gray swing dresses to choose from. Forever 21 has a short sleeve version, a marled version, and also a thick sweater option. Urban Outfitters has a casual sweatshirt dress and a more structured mini dress with a V-neck. This one from Nasty Gal is a great match for Eleanor's, with added neck detailing. Here's one more choice from Nordstrom that has a little more length on it.
THE BOOTS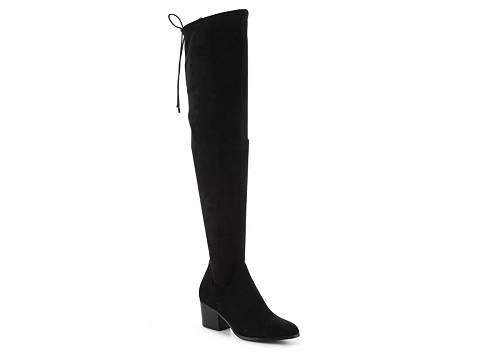 Obviously, the thigh-high boots complete this look. Everyone seems to be in agreement that Eleanor is wearing this Lowland boot from Stuart Weitzman. Unfortunately, these boots retail for $798, which is not practical for most of us. She has been spotted wearing these boots on multiple occasions, one of which I talked about here.
The boots shown above are $89.95 from ALDO. Just like the dress, these boots are a basic fall wardrobe staple that can be worn over and over again. They would make a great addition to any closet. Here are two pairs with heels [1|2] and two pairs without [1|2], depending on which you prefer. Ivanka Trump makes a comparable boot you can buy on Amazon. Here is yet another option from Public Desire. In a previous post, I suggested these Nasty Gal boots as a match for Eleanor's.
THE BAG
While I'm not entirely sure, I think Eleanor has used this particular bag before. While we can't see the bag clearly, it's important to notice the chain detailing on the strap. We also know it's a small crossbody style! The bag shown above is from Forever 21 and only costs $22.90! Here is another option from Forever 21. Here are two additional options from Nordstrom [1|2].
THE BRACELET
Any simple gold bangle will do the trick to complete this look. I love this one from Charming Charlie. Here's another option that comes in a pack of multiple bracelets. Here are two additional sets from Forever 21 [1|2].