Get this bohemian chic look with only a few basic wardrobe pieces!
THE TOP
You probably already have a basic black crop top in your closet–or at least a plain black t-shirt! If you don't, pick up this super affordable top from Forever 21 for the perfect base to Selena's look.
THE SWEATER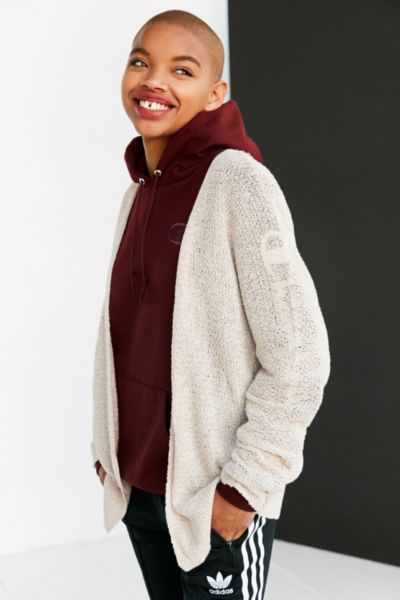 Cozy up for Fall with this oversized cardigan from Urban Outfitters. Here's another option from Forever 21, with shorter sleeves. This is great for those of you still experiencing warm weather for the next few weeks or months.
THE PANTS
You will never want to change out of these cute and comfy palazzo pants from Forever 21. Here's another option from Nordstrom and two more choices from Target [1|2].
THE SANDALS
I am a huge fan of these sandals from DSW. They're trendy while also looking comfortable. Here are two more options from Forever 21 [1|2].
THE BAG
Finding an oversized white bag is no easy feat going into Fall, but there are a few good ones floating around! The one shown above is from DSW and is only $29.94. This white bag from ALDO is another good choice. And for those of you looking to spend some serious money (which would not make this a Look for Less!), Rebecca Minkoff has a beautiful bag at Nordstrom for $325.
THE BRACELET
Selena's bracelet looks a lot like a Links of London bracelet, but for $225, that doesn't exactly make the look cheap. Fortunately, there are dozens of alternatives at places like Charming Charlie [1|2|3], Charlotte Russe, and Topshop.
THE NECKLACE
Any longline necklace or Y-necklace would be a good pick for Selena's. The one shown above is from Forever 21. Here's a non-rhinestone version to choose from. Here are three additional options from Charming Charlie [1|2|3].
THE SUNGLASSES
I think these sunglasses from Charming Charlie are a great match for Selena's. They're fun and beachy-cool and a great price! Here's another pair from Charming Charlie. Here are three more pairs from Target [1|2|3].