For the next few days, I'm focusing on celebrating the 13th anniversary of The Lizzie McGuire Movie! This post is part of the series. And today is the actual day the movie was first released!
There's no denying it–we envied Hilary Duff's iconic style in 2003's The Lizzie McGuire Movie. She looked so stylish and cool (or so we thought).
Even though her outfit choices from the movie have not aged well, we can still use her style as inspiration for us! Check out my suggestions for inspired-by looks from the movie.
1. The Ruffled Button-Down
At least we can all agree that button-downs will never go out of style. The ruffled cuffs? Not such an everlasting style.
This top mimics Hilary's without looking outdated. These two tops [1|2] are also modern, stylish, and similar to the one worn in the movie. You could pair with a straight-leg jean for a more vintage vibe or a pair of skinny jeans to update the look even further.
2. The Airport Henley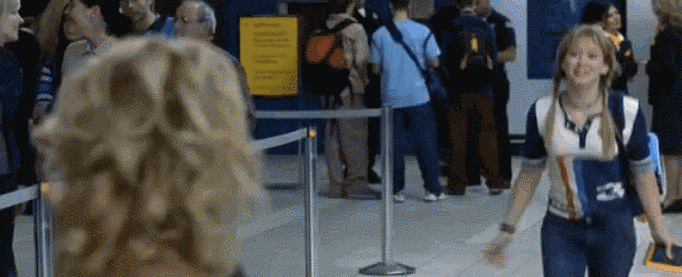 This has always been one of my favorite looks from the movie. I think it was because I was so jealous of her beautiful blonde hair and how cute it was in braids.
A simple Henley baseball tee is the easiest way to recreate (and update!) this look. This shirt is a bargain from Forever 21. This graphic baseball tee incorporates both the blue and the orange in Hilary's shirt.
3. Patterned Pants & The Denim Jacket
Fortunately, this outfit is so close to being in style already. It just needs a few tweaks here and there.
Pick up these camo print skinny jeans for a fresh take on the early-00s look. If you want a more relaxed fit, these flared pants are also a good look. Layer a simple tee shirt (whether graphic or plain) and, the centerpiece of this entire look, the classic denim jacket.
The denim jacket above has the same dark wash as the movie. I also like this denim jacket and this one.
4. Stripes On Stripes On Stripes
Besides the crazy pants trend of the early 2000s, it also appears as though extra large, long cuffs on button-downs was a thing.
Here's a modern take on the shirt from the movie. The one in the picture above is from ASOS. I certainly wouldn't add pinstripe pants, but I would recommend a classic, dark-wash pair of jeans instead.
If you really want to splurge, don't forget the iconic Tiffany & Co necklace! I mean, if you're willing to spend $550 to match Hilary's style, I wouldn't judge you. Also, you're getting great bang for you buck, since she wears this necklace with the majority of her outfits in the movie.
5. The Sexy, Sultry, Sheer Lace Top
I thought this outfit was so scandalous at the time. I especially loved the sheer back. Her shirt, her hair, and the basic jeans make this outfit look almost disheveled–but in a cool and sophisticated way?
Dramatic back details are important when picking out a similar shirt. I like this one from Nasty Gal.
Pay attention to things like a rich color, sheerness, lace, asymmetrical features, and layers. It's hard to find an exact match for the top, but there are several decent options floating out there. Here is another choice from Nasty Gal that I like. Here is an option from Revolve Clothing. Here is a top from Urban Outfitters. And, last but not least, here are three choices from Nordstrom [1|2|3].
6. Shimmery Coordinating Set With Bell Bottoms & Tear-Away Skirt
You know this outfit as the quintessential The Lizzie McGuire Movie outfit. When you think of the movie, you think of this ensemble. Because, let's be real–it's iconic.
There is no way this look can adapt to everyday wear, but if you want your prom/wedding/party inspiration to come from this film, you're in luck. Coordinating sets are in style now, so they're not too difficult to find.
This option above is from Nordstrom. Check out these four more options from Nordstrom [1|2|3|4]. If you don't want the two-piece look, or you need a more wearable ensemble for girl's night out, try going with the periwinkle color, instead of the look of the ballgown.
The shimmery dress above is from ASOS. It's glam without being too over-the-top. Here are two more ASOS options I like [1|2], plus one from Nordstrom.
I did my best to find you guys some crazy metallic pants to mimic this look. Check out this pair from Nasty Gal.
Here's a sequined pair of pants, a super-flare pair of pink pants (too bad they're not periwinkle), and a sequined maxi skirt for those of you willing to try out this look.
7. The Totally Trendy Promo Shot
Welcome to 2003! This outfit did not age well, but it can be easily modernized! Check out this dress below from Forever 21. It's a fun, bright printed mini dress with short sleeves.
Here's another Forever 21 option. I also like this dress from Topshop. These two from Anthropologie are also good options [1|2]. Add a pair of over-the-top boots like the ones shown below (or these), and you're good to go!
8. Pre-Graduation Casualwear
Okay, again with the colored pants. And I'm for sure not recommending you buy a hat like Hilary's either. Grab a classic V-Neck (shown below) and a pair of fun, more contemporary striped pants, and you can rock this cute and comfy at-home look.
9. Music Video Glam
Another unforgettable promo look that did not age well. With a fresh silhouette on the top (or this one or this one)and a pair of skinny jeans, you'll be rocking this look in no time. Feel free to ditch the extra-long tie belt.
10. Date Night Glam
Watching this movie years later, I always felt this outfit was way ahead of it's time. Tunics, leggings, and ankle-strap heels wouldn't be in fashion until years later–yet here was Hilary, paving the way for everyone else.
I interpret this look as a flirty, boho romper like the one shown above. These three options from Forever 21 are also good choices [1|2|3]. Grab a fun pair of block heels [1|2|3|4] and your outfit is date-night ready.
11. Polka Dot Day Dress
Another of my favorite looks from the film. Lucky for us, polka dots are timeless.
I love this dress from ASOS. I also like these two dresses from Nordstrom [1|2].
12. The Movie Cover Look
This list wouldn't be complete without including the outfit from the movie poster. The good thing this outfit has going for it is that sporty fashion inspiration is now a trend, meaning these pieces are easier to find.
Try this drawstring skirt from ASOS. Or, aim for the striped pattern–either this one from ASOS, this pencil skirt from Nordstrom, or this more casual Topshop option.
Now, get shopping, get dressed, and live your best Lizzie McGuire-inspired life.