Girl's night has never been sexier or more fun. Eleanor looks absolutely stunning in this plunging romper and lace-up gladiator sandals.
The romper is from Privacy Please and can be purchased here for $178.00. Her sandals are from Raye the Label and can be purchased here for $182.00.
THE ROMPER
Fortunately, the simple black romper is very fashionable right now, meaning you can find variations of this piece almost anywhere. The one pictured above is from ASOS and mimics the long-sleeves and plunging neckline of Eleanor's. Other long-sleeved options I like are this one from Topshop, this one from Urban Outfitters, these two from Nordstrom [1|2], and this one from Forever 21.
If the long sleeves are not important to you, or the weather is too warm to have them, the following options will also work: these two from Nordstrom [1|2] and these two from Forever 21 [1|2].
THE SANDALS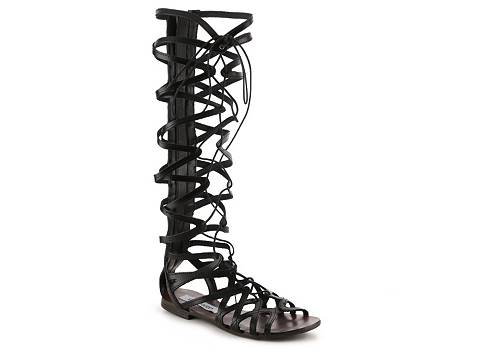 Just like her romper, the lace-up gladiator sandals Eleanor is wearing are very trendy and can be found in almost any store right now. I like the pair shown above from DSW. Here are three more affordable DSW options [1|2|3]. Here is another option I like from Target.
THE PURSE
When trying to match Eleanor's purse, there are a few things we're looking for: fringe, crossbody style, and a light color (it looks whitish gray in the pictures). The one shown above is from Urban Outfitters. I'm also a huge fan of this one from Nordstrom. This one from Topshop would do in a pinch as well.
THE JEWELRY
As is her typical style, Eleanor is wearing no jewelry except for tons and tons of rings. The ones pictured above are from Forever 21. I like these three other sets from Forever 21 [1|2|3]. If you're looking to stack on even more, these three sets from Charming Charlie are also great choices [1|2|3].