I continually fall in love with her fashion choices, but this is one of my favorites thus far.
I'm absolutely in love with this pretty, delicate, breezy, two-piece Spring outfit. I love that it looks very retro, with the pastels and the polka dots–yet she updates the look with sneakers and a cropped top.
According to this Tumblr, the pieces of her outfit are from Privacy Please. The top can be purchased here for $98 and the skirt here for $128. However, we're aiming for a more discounted look, so if you don't want to grab the originals for yourself, let's look at some alternate options!
Two-Piece Matching Set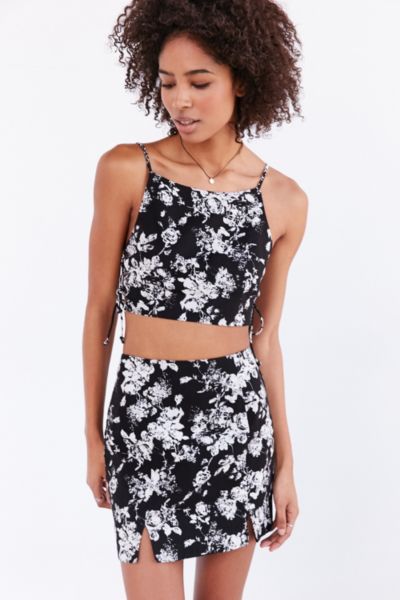 Honestly, finding a matching set that looked anything like Eleanor's was quite a challenge. There are many two-piece sets floating around right now, like this one from Urban Outfitters, but finding the delicate pink shade and polka dot pattern and flippy skirt have all proven challenging.
This two-piece set from LookBook Store has a similar shape to Eleanor's, but the pattern is not comparable at all. The one pictured below is from Nordstrom, but has a very formal feel. These two pieces from Forever 21 [1|2] also have a formal feel.
You can go for your own combination of two pieces. I like this top from Tilly's with this skirt. Here is a polka dot skirt from Forever 21, which you can pair with more polka dots, or a more simple top.
If you don't want to go for a two-piece set and would rather emulate the style while showing as little skin as possible, there are dresses out there that mimic her look without being too flashy. I really like this delicate and breezy dress from Forever 21. I also like this floral dress from Urban Outfitters. This dress from PacSun is also a pretty alternative.
The Shoes
The shoes are adidas Superstar Originals. You can buy them for $91 at ASOS. Fortunately, the understated white sneaker is back in style, so there are many more affordable options out there.
I scoured ASOS for cheaper shoe options and came up with three. The first is a cheaper adidas shoe for $66.00. Two more options are less than $35–these and these.
The Jewelry
A simple bangle and some chunky rings–that's what pairs well with this outfit. The set of bangles shown above is only $6.90 from Forever 21–and you only need one bracelet for this look! I like this other bangle set from Forever 21, as well as this set from Nordstrom.
Now, Eleanor has a ton of rings on–so pile them on! I love this set from Forever 21. This set from Charming Charlie is also a good option.
She is also wearing some pretty big statement rings, so pick out a few bold choices for yourself.
Here is a set from Forever 21. If you don't care for the style of the rings picture above, here is another choice from Forever 21 and another choice from Charming Charlie.