It's no secret that I'm a huge fan of NYX Cosmetics. With their ever-expanding line of high-quality and affordable products, this is a line that everyone needs to try out.
Since these products are all so near and dear to my heart, many of them have been featured on my previous post, My Daily Make-Up Bag. Check out that full post if you want to read more about the products I use everyday.
Jumbo Eye Pencil (in Cottage Cheese), $4.49, target.com
This product was my first introduction to the NYX brand. I use the Jumbo Eye Pencil in Cottage Cheese (or Milk, for a less shimmery look), on the inner corners of my eyes. I use this product everyday. It is easy to apply, looks great, and stays in place.
Loose Pearl Eyeshadow, $3.00, nyxcosmetics.com
These are seriously the best thing to pile on top of your eyeshadow before a night out. They offer super vivid colors and a ton of sparkle, which is always a plus! If you want to pack even more punch with your look, try out the Face and Body Glitter NYX offers.
Honey Dew Me Up Skin Serum & Primer, $16.99, ulta.com
I use this product every day! It keeps my make up in place, but feels so lightweight and refreshing. I don't feel like I'm clogging up my pores with primer when I use this.
Liquid Suede Lipstick, $6.99, target.com
I have tried the Soft Matte Lip Cream before (which is still amazing in it's own right), but the way the Liquid Suede applies is so much smoother and creamier and generally better.
Highlight & Contour Pro Palette, $24.99, ulta.com
I purchased a Smashbox contour palette probably three days before I stumbled across this one (for half the cost). What ultimately made me purchase it, besides the great price point, was that it included eight different shades of make-up. The one I had previously purchased only had three–and a lot of contour palettes only have six, at the most.
Liquid Crystal Liner, $4.49, target.com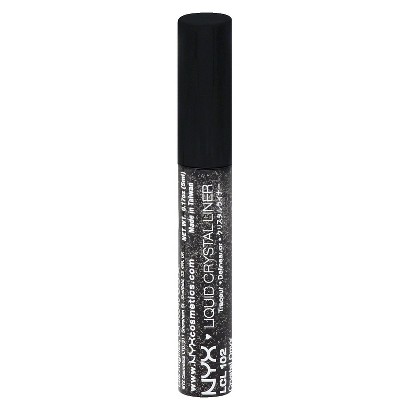 I just received this for Christmas and I couldn't be happier! I had a glitter liner a long time ago (the Urban Decay one), which I really liked. However, this one is 75% cheaper, so that certainly is appealing!
HD Finishing Powder, $9.99, ulta.com
The HD Finishing Powder comes in three different shades–translucent, banana, and mint green. Translucent works as a sort of seal for your make-up. The banana shade works to even out skin tone and the mint green shade conceals redness. I've been using the mint shade and I am in love with it.
Eye Brow Shaper, $8.69, target.com
This is another NYX product I use every single day. This waxy pencil is made to keep your eyebrows fixed in place. Whether I'm doing my full make-up for a night out, or want to look slightly more put together for the grocery store, I use this pencil every day.
Round Case Lipstick (in Thalia), $3.99, ulta.com
I have tried probably every drugstore lipstick that is out there (or at least the good majority of them) and NYX is by far the best. It applies smoothly, doesn't dry out your lips, and has great staying power throughout the day. Thalia is my favorite shade, as it is extremely subtle and perfect for everyday wear.
Lip Primer, $6.99, ulta.com
Super moisturizing! This lip primer feels great under any lipstick and prevents smudging and fading. I love to apply it before adding anything else to my lips.
Slide On Pencil, $7.99, target.com
When I need a pop of color on my lower lash line, I reach straight towards the Slide On Pencil in Pure White. If you're not into that look, the pencil comes in a variety of shades.
Eye Shadow Base (White), $6.99, ulta.com
One of the best eyeshadow primers out there. The white formula makes any shade of eyeshadow truly stand out. I also like that it has a slightly shimmery sheen, which adds for an added layer of interest in your make-up.